Canadian Owned & Operated • Fast + Free Shipping Over $49* • Easy Returns • Gift Wrapping Available • Lowest Prices Guaranteed!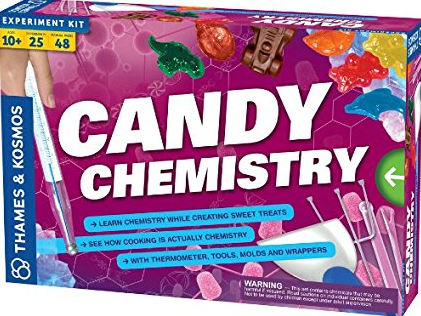 Product Details
SKU: 3152781
UPC Code: 814743010185
Shipping Weight: 2.00 lbs
Sweet Treat Experiments You Can Eat! Explore the science and chemistry involved in making your favorite candy. Candy Chemistry Set does not contain hazardous chemicals or food items – just use ingredients from your kitchen. Melt molding chocolate and observe the phases of matter as the temperature increases. Wintergreen candies reveal the phenomenon of triboluminescence. Give your "sweet genius" hands-on experience with measurements, conversions, volumes, weights and more. Discover why sugar crystallizes to make rock candy. Learn about specific heat and the phases of matter by molding chocolates. Use a thermometer and learn about heat and temperature while boiling sugar. Gain experience with measurements and conversions, volumes, and weights. Investigate the chemistry of gummy bears. Includes 25 experiments, plastic and metal molds, candy thermometer, spatula, dipping fork, instruction manual. You supply the safe ingredients from your kitchen. Finish them with foils, paper cups, sticks, and wrappers. For ages 10+. WARNING! — This set contains chemicals and parts that may be harmful if misused. Read cautions on individual containers and in manual carefully. Not to be used by children except under adult supervision.
Recommended Products
Reviews
Product Reviews
See What Our Customers Had to Say
My daughter loves this. I often make homemade candies and now she can do her own as well!
---
Write a Review
Please log in to write a review: