Canadian Owned & Operated • Fast + Free Shipping Over $49* • Easy Returns • Gift Wrapping Available • Lowest Prices Guaranteed!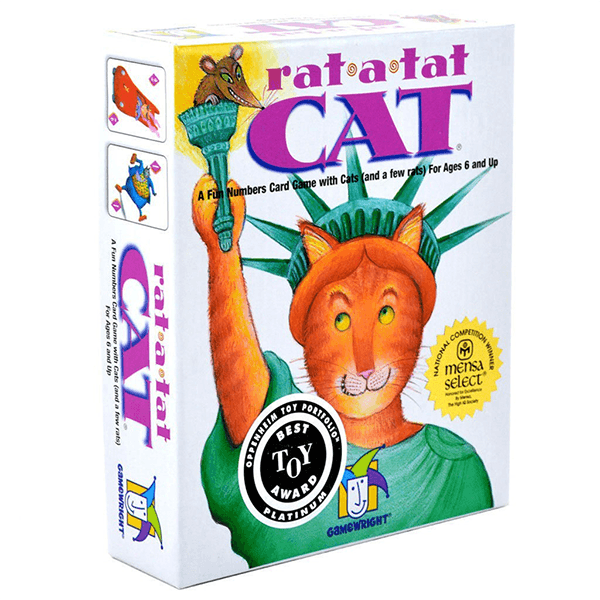 Gamewright Rat-A-Tat-Cat Card Game
Product Details
SKU: 204GR
UPC Code: 759751002046
Shipping Weight: 1.00 lbs
Description:
It's never too early to develop a good poker face. With Rat-a-Tat Cat, a poker face is just one of the skills players need to perfect. As in poker, luck, skill, strategy, and intuition each play a part. Players are dealt four cards, which are kept face- down, except for a quick peek at two of them. Each player in turn pulls a card from the draw pile to replace one of the four. Memory is important, as the object is to end with the lowest score, and players must keep track of the values on their four cards. "Peek," "Swap," and "Draw Two" Power cards turn up occasionally, allowing players to maneuver and strategize further. Delightfully witty pictures of cats (the good guys--low points) and rats (bad guys--high points) illustrate each of the 54 cards. Young card sharks will develop a sense of timing and greater ease with numbers, and can begin to grasp the concept of probability. Winner of Oppenheim Toy Portfolio Platinum Best Toy Award and the 1996 Mensa Best New Mind Game. For 2 to 6 players.
Recommended Products
Reviews
Product Reviews
See What Our Customers Had to Say
---
Write a Review
Please log in to write a review: