• Canadian Owned & Operated • Fast & Free Shipping Over $49* • Easy Returns • Gift Wrapping Available • Lowest Prices Guaranteed!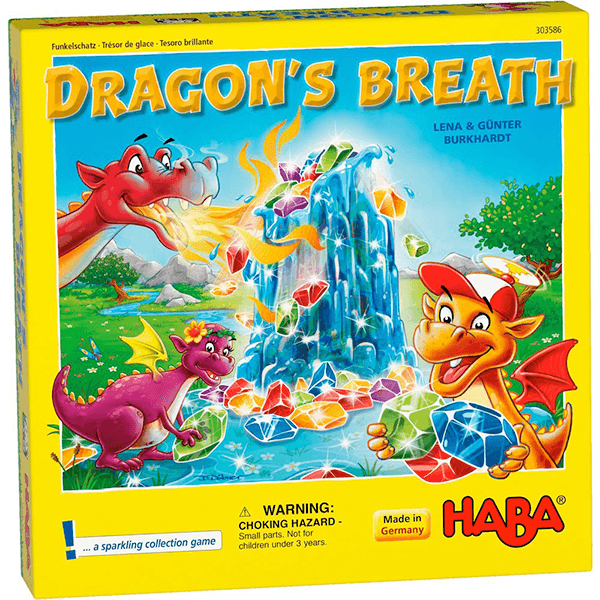 Product Details
SKU: 303586
UPC Code: 4010168233482
Shipping Weight: 2.80 lbs
Whats in the Box?
1 dragon dad, 1 box base with 4 dividers, 1 game board, 4 dragon children, 9 ice rings, 90 sparkling stones (18 in each of 5 colors), 5 sparkling stone tiles, 1 ice floe tile, 1 set of instructions.Includes 3 game variations
Description:
On one of their expeditions the dragon children Mira, Feo, Luna and Diego discover an unusual sparkling treasure: a column of ice with sparkling stones frozen inside it. They want to take the treasure back to their cave. But unfortunately the column of ice is too heavy. The only thing they can do is to melt it. But breathing fire isn't as easy as it sounds. Instead of fire they only manage hot air. Then the four of them have an idea: they'll get their dad to help. Four young dragons and one dragon dad, try to get the most gems out of a ice column filled with them. Each round the young dragons will pick a gem color that they think will come out of the ice when the dad melts it. Once they have all picked the dad will pick up the top most ring, allowing some gems to fall off the tower to be collected by the young ones. There is also some holes in the board that if a gem falls in there, it goes to the dad and he may win. After all the gems that fell have been collected, the young dragons pick again what color they will collect and the next ring comes off. This will continue until all the rings are gone and then whoever has the most gems is the winner.
Recommended Products
Purchased Together
Reviews
Downloads & Resources
Product Reviews
Be The First To Share Your Thoughts
---
Write a Review
Please log in to write a review: