Canadian Owned & Operated • Fast + Free Shipping Over $49* • Easy Returns • Gift Wrapping Available • Lowest Prices Guaranteed!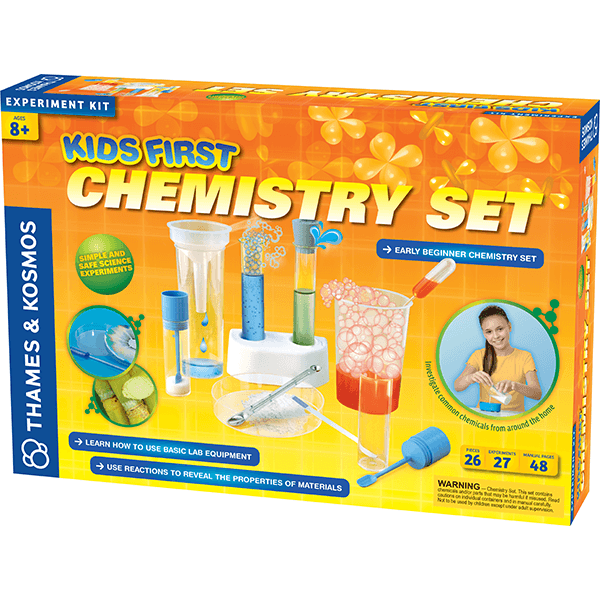 Thames & Kosmos Kids First Chemistry Set
Product Details
SKU: 642921
UPC Code: 814743010611
Shipping Weight: 3.69 lbs
What's in the Box?
One Kid's First Chemistry Set from Thames and Kosmos with up to 25 Experiments!
Description:
Exceptional Introduction to Chemistry
Kick off a chain reaction of fun-filled experiments with this introductory chemistry set designed specifically for young kids. Junior chemists can safely explore simple chemistry using the tools in this kit and common household substances from the kitchen, bathroom, and laundry room. Learn how to use basic chemistry equipment such as filters, test tubes, pipettes, and measuring spoons, and beakers. Make your own test tube racks out of plaster and learn about the chemical reaction that formed them.
Conduct experiments to identify different chemicals using reactions, heat, evaporation, and crystallization. Examine the composition of inks and dyes with chromatography experiments, where colors magically separate from one another on a filter paper disk. Explore the properties of water, soaps, and oils. Experiment with acids and bases using indicators (pH strips and cabbage juice) to identify them. Make fizzy reactions with acids and bases to dissolve shells and inflate balloons. Discover the invisible gas carbon dioxide and its very visible effects.
The full-color, 48-page manual guides inquisitive young chemists and their adult supervisors through safely conducting each of the 25 experiments.
Recommended Products
Reviews
Product Reviews
See What Our Customers Had to Say
Great kit to help cure my kid's mid-winter boredom. They love spending their weekends doing new experiments
---
Write a Review
Please log in to write a review: