• Canadian Owned & Operated • Fast & Free Shipping Over $49* • Easy Returns • Gift Wrapping Available • Lowest Prices Guaranteed!

Features Large and Strong Magnets

Made with Non-Toxic ABS Plastic

Reinforced Rivets for Safety

Unique, Star-Shaped Bevels
100 Piece Infinity Tiles Set
Go the distance with the Infinity Tiles 100 Piece Set! This super-sized set has all the colourful magnetic pieces needed to make a swirling geometric sun, complex cube, adorable domed turtle and more. Use alone or combine with additional Infinity Tiles for unlimited play!
Each box includes: 4 X Big Squares, 36 X Small Squares, 4 X Windows, 12 X Triangles, 12 X Right Triangles, 4 X Pathways, 6 X Small Rectangles, 5 X Ramparts, 4 X L Pieces, 12 X Long Triangles, and 1 X Car Base to put ideas in motion!
Buy Now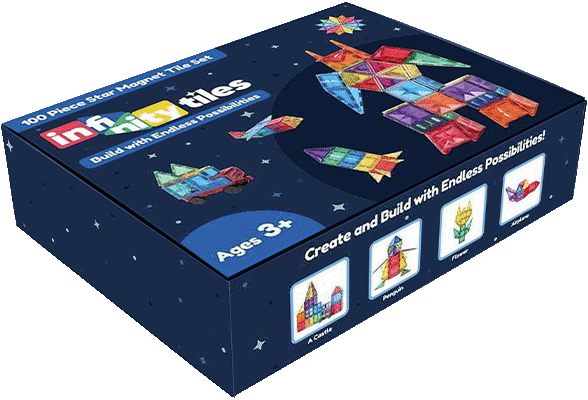 36 Piece Infinity Tiles Set
Construct creativity with the Infinity Tiles 36 Piece Set! Each set includes enough tiles to make alphabet letters, a cat, a horse, a windmill and more! Follow the tutorials in the instruction booklet, or fabricate unique freeform designs.
Each box includes: 2 X Big Squares, 14 X Small Squares, 8 X Triangles, 4 X Right Triangles, 4 X L Pieces, and 4 X Long Triangles.
Buy Now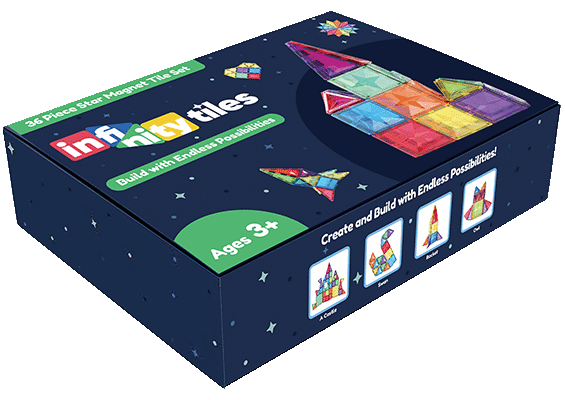 16 Piece Magnet Brick Tiles Add-On Set
The 16 Piece Magnet Brick Tile Set is a fantastic addition to any little builder's arsenal. These tiles are magnetic, so they can snap together with Infinity Tiles toys and have LEGO compatible connectors! Combining two different building set styles encourages innovation like never before. Translucent tiles contrast with opaque LEGO to simulate complex stained glass windows, realistic water, stunning flowers and more.
Double the options, double the possibilities, and double the fun! What will your child create next?
Each box includes 16 translucent square tiles in 6 colours.
Buy Now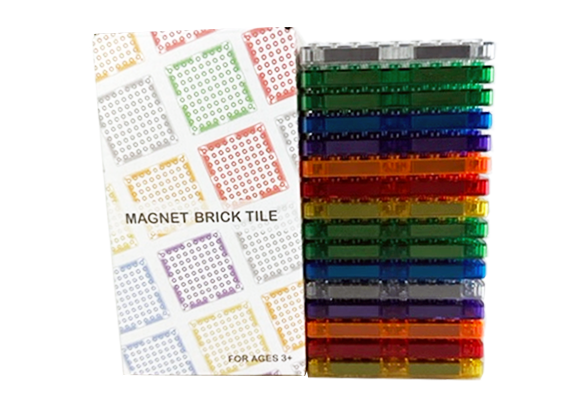 Expand Your Imagination
Your little one can make anything they dream of with Infinity Tiles! Each tile features dazzling patterns and reinforced magnets that make every structure stand out. Infinity Tiles stand strong and are easy to snap apart for use in new designs. Durability and versatility make Infinity Tiles ideal toys for kids and parents alike!
Infinity Tiles are a perfect choice for children who already love building toys and those who are just getting started. Since the magnets snap together and stay together, there's no need to fuss over bricks that don't fit! It's easy for builders of all skill levels to start learning and creating.
Making vibrant mosaics and 2D scenes is as intuitive as stacking tall towers. Infinity Tiles make it easy for kids to improve their confidence in both the arts and sciences.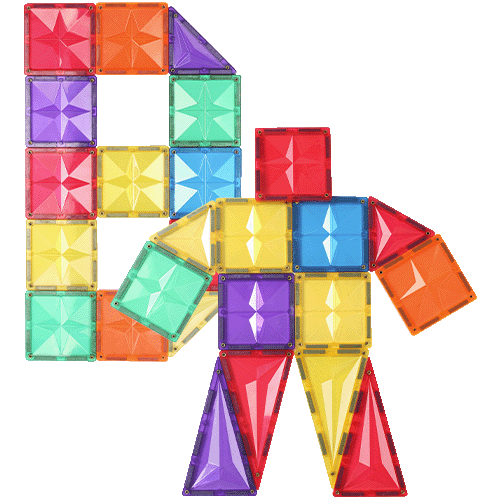 Infinite Building Possibilities
Our STEAM kits support your child's imagination and offer limitless building potential! Watch children learn through the power of play as they engineer everything from impressive castles to rocketships. Understanding structures and magnetic force has never been more exciting.
Big kids aren't the only ones that love to learn with Infinity Tiles. Bold colours, and shape variety, mean Infinity Tiles are perfect for kids learning about basic geometry, counting and colours! Challenge little ones to create impressive designs using specific Infinity Tiles to reinforce crucial educational concepts.
Kids of all ages will never get bored exploring with Infinity Tiles - discover unlimited ways to play! By encouraging them to take on new and compelling STEAM activities, little ones can grow up to achieve anything they imagine.
Snaps Together with Strong, Reinforced Magnets!