• Canadian Owned & Operated • Fast & Free Shipping Over $49* • Easy Returns • Gift Wrapping Available • Lowest Prices Guaranteed!
Order Processing, Shipping & Transit Times
Looking to pick up an order at our Burlington, Ontario store? Click here for store hours of operation and pick up details.
Free Shipping Eligibility
Free standard shipping is available on orders being delivered to most addresses within Canada, with a subtotal or $49.00 or greater, before applicable taxes. JR Toy Company will determine the best standard shipping carrier for each free shipping order, and most orders ship next day or faster. Orders under $49.00 will pay shipping and applicable taxes. Shipping fees vary by product and shipping location, and shipping fees are non-refundable. Delivery addresses in some areas will be designated as "beyond zones" and do not qualify for free delivery.
Beyond Zones
Beyond zones are determined by our courier companies based on your postal code, and are typically more remote and/or rural locations that are outside of their typically defined, standard shipping regions. If you are located in a beyond zone - which will be determined once you provide your postal code during check out - then an additional shipping charge will be applied to your order.
Gift Wrapping
Let us help take the stress out of gift giving! For a nominal fee, JR Toy Company's staff will carefully wrap and package your gifts with one of our many colourful, seasonal patterns before delivery. Most items are eligible for gift wrapping, but for large or heavier items - including play sets, telescopes and other bulky products - we aren't able to offer this service.
Order Processing Times
JR Toy Company strives to have most orders processed and shipped within 1-2 business days after they are placed; should a delay arise, you will be notified by phone or email.
---
JR Toy Company Estimated Shipping Times
Please note that due to increased shipping demand this holiday season, actual shipping times may vary and/or be delayed - orders placed after the last day to ship deadlines listed below may still arrive in time for Christmas, but cannot be guaranteed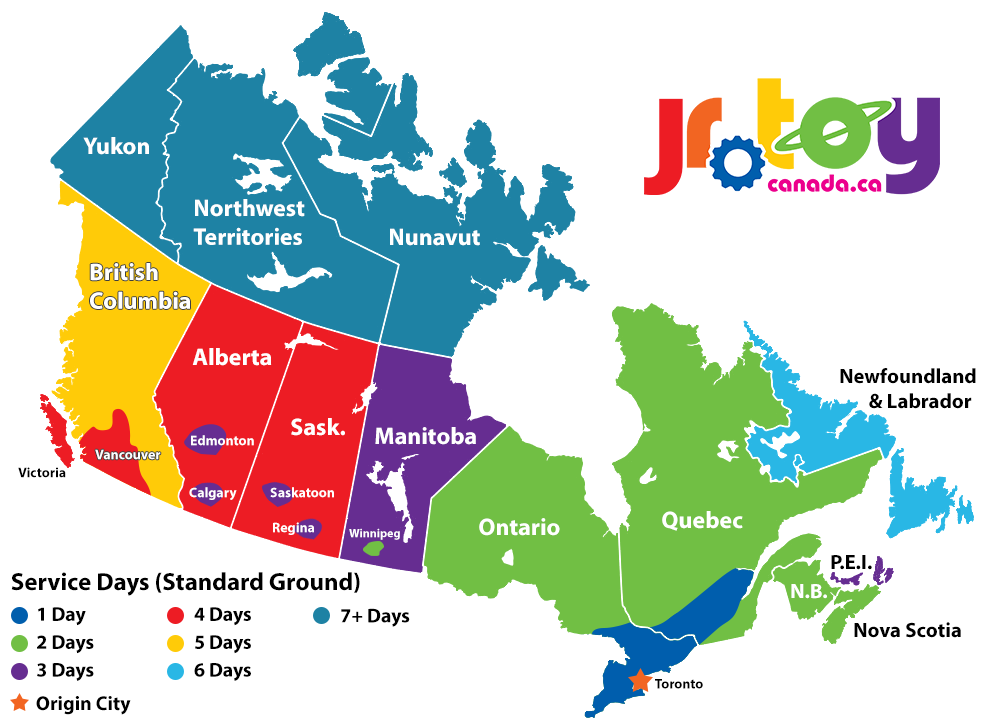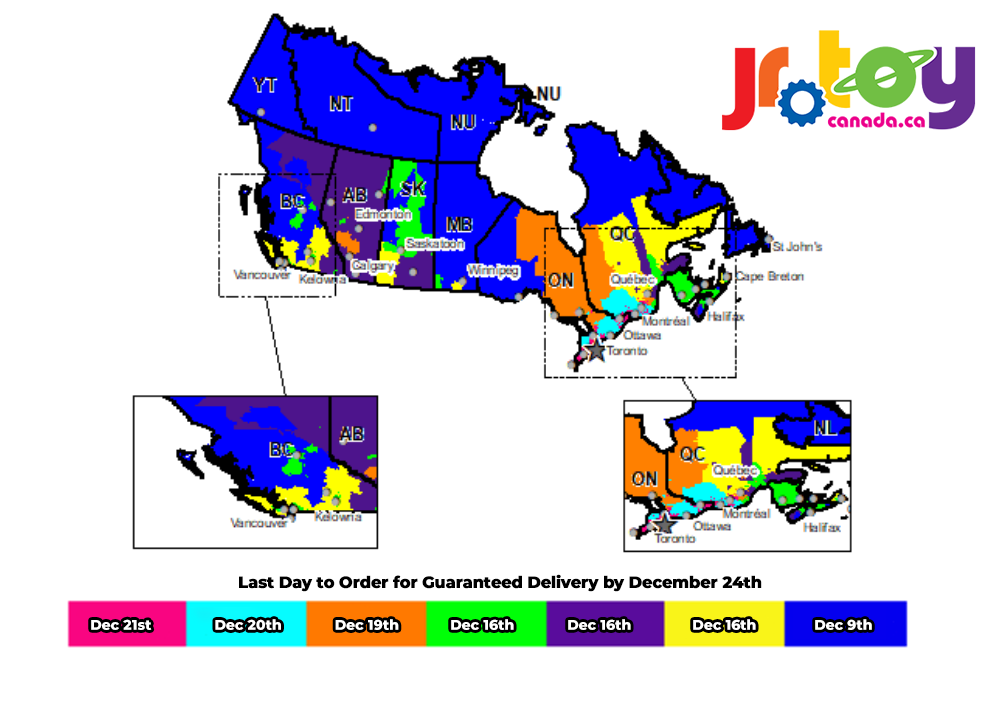 JR Toy Company Estimated Shipping Times to...
British Columbia
Victoria Island
Vancouver + surroundings area
Southern British Columbia
British Columbia
Shipping Time
4 Days
4 Days
4 Days
5 Days
Alberta
Edmonton + surrounding area
Calgary + surrounding area
Alberta
Saskatchewan
Edmonton + surrounding area
Regina + surrounding area
Saskatchewan
Manitoba
Winnipeg + surrounding area
Manitoba
Ontario
Southern Ontario
Thunder Bay + surrounding area
Northern Ontario
Quebec
Montreal + surrounding area
Quebec City + surrounding area
Quebec
New Brunswick
Moncton + surrounding area
Saint John + surrounding area
New Brunswick
Newfoundland & Labrador
St. Johns
Newfoundland and Labrador
The above are estimated shipping time determined by the shipping companies online transit estimation tools - these do not reflect actual transit time.