Order Processing, Shipping & Transit Times
Free Shipping Eligibility
Free standard shipping is available on orders being delivered in Canada with a subtotal or $49.00 or greater, before applicable taxes. Jr Toy Company will determine the best standard shipping carrier for each free shipping order, and most orders ship next day or faster. Orders under $49.00 will pay shipping and applicable taxes. Shipping fees vary by product and shipping location, and shipping fees are non-refundable.
Order Processing Times
JR Toy Company strives to have most orders processed and shipped within 1-2 business days after they are placed; should a delay arise, you will be notified by phone or email.
---
Jr Toy Company Estimated Shipping Times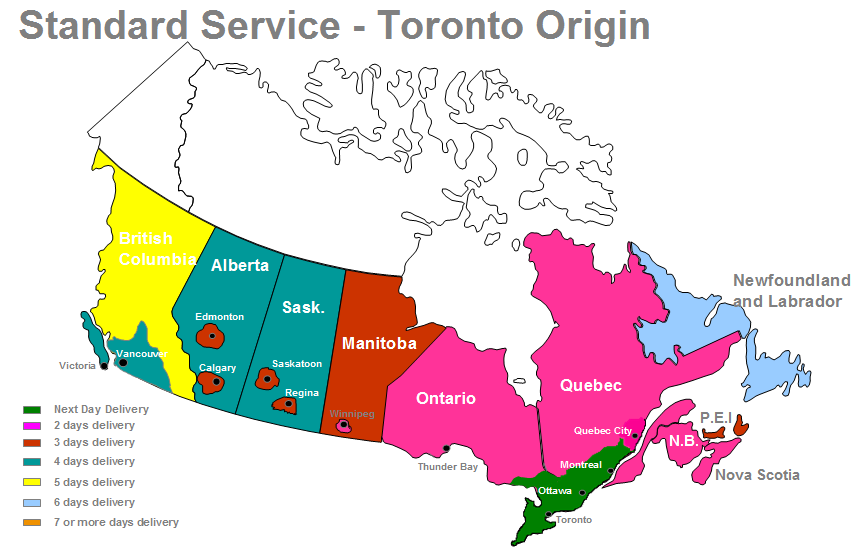 Jr Toy Company Estimated Shipping Times to...
British Columbia
Victoria Island
Vancouver + surroundings area
Southern British Columbia
British Columbia
Shipping Time
4 Days
4 Days
4 Days
5 Days
Alberta
Edmonton + surrounding area
Calgary + surrounding area
Alberta
Saskatchewan
Edmonton + surrounding area
Regina + surrounding area
Saskatchewan
Manitoba
Winnipeg + surrounding area
Manitoba
Ontario
Southern Ontario
Thunder Bay + surrounding area
Northern Ontario
Quebec
Montreal + surrounding area
Quebec City + surrounding area
Quebec
New Brunswick
Moncton + surrounding area
Saint John + surrounding area
New Brunswick
Newfoundland & Labrador
St. Johns
Newfoundland and Labrador
The above are estimated shipping time determined by the shipping companies online transit estimation tools - these do not reflect actual transit time.