• Canadian Owned & Operated • Fast & Free Shipping Over $49* • Easy Returns • Gift Wrapping Available • Lowest Prices Guaranteed!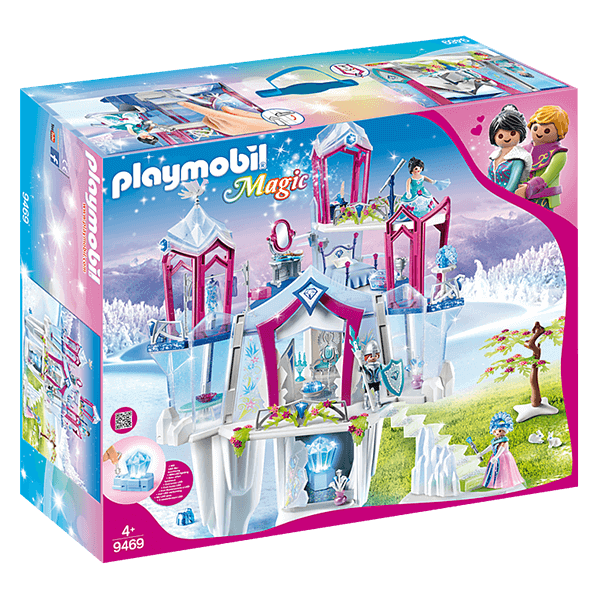 Product Details
SKU: 9469P
UPC Code: 4008789794697
Shipping Dimensions: 23" L x 7" W x 20" H
Shipping Weight: 7.90 lbs
Whats in the Box?
Set includes the figures, throne, interchangeable outfits, bed, rocking chair, bejeweled scepter, rug, candelabra, vanity, ice flowers, love letter, quill, magical key, and lots of other accessories.
Description:
Set off on a dazzling adventure as you explore the Crystal Palace of the Winter Kingdom! In this incredible world, visitors will find a little magic and mystery. As they approach the front gates, lift the gemstone shield to lower two magical icicles and block their entry until the guards determine if the visitor is a friend or foe. Friends can then enter the palace and meet with the royal family on the main floor. The queen sits upon her throne while magical lights flicker up through the ice floor, a result of the illuminating crystal sparkling in the palace cave below (3 x AAA batteries required). When finished greeting visitors, the royal family can ascend to their private apartment via the spiral ice staircase. Fully furnished with a luxurious bed, rocking chair, vanity, and dressing room, the princess' chamber has everything she needs. Depending on her mood that day, the princess can select whichever outfit suits her best. Keep an eye on the magical hoop skirt though! It changes patterns in the cold. When the princess wants to sneak away to a quiet place, she can lower the hidden ice steps outside her bedroom and climb up to the palace tower. There, she can look out over her icy kingdom with the help of the telescope.
Recommended Products
Reviews
Downloads & Resources
Product Reviews
Be The First To Share Your Thoughts
---
Write a Review
Please log in to write a review: