• Canadian Owned & Operated • Fast & Free Shipping Over $49* • Easy Returns • Gift Wrapping Available • Lowest Prices Guaranteed!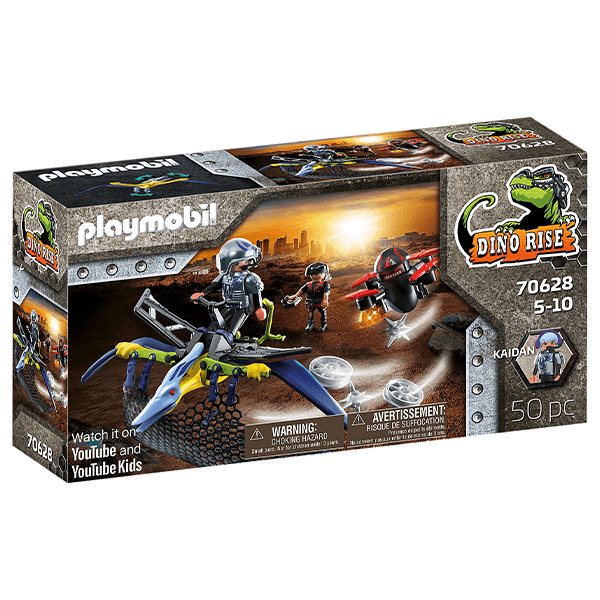 Product Details
SKU: 70628P
UPC Code: 4008789706287
Shipping Weight: 0.90 lbs
What's in the Box?
50 piece set includes 1 teenager, 1 villain, 1 pteranodon, 1 drone, 1 tripod, 1 remote control, 1 back armor, 1 net, 7 net hooks, 2 projectiles, 2 throwing mines, 2 helmets, 1 headset, 1 chest armor, 1 pair of arm armor, and 1 change wig.
Description:
Fend off an air attack from the robotic machines with the Pteranodon: Drone Strike. Even at lofty heights, the vicious robotic machines are on the move. A drone makes the airspace unsafe; but that's no problem for Kaidan and his agile Pteranodon. The Pterosaur is at home in the sky. This clever duo of the dino and its friend, Kaidan, cannot be stopped and work together to defend the skies. Equipped with a projectile catching net, the agile dino can capture approaching enemies at lightning speed or transport scrap materials to Uncle Rob. Of course, his good friend Kaidan is always with him on his back. There's no stopping this clever human-flying dinosaur duo. Attack from the air - repelled!
Recommended Products
Reviews
Product Reviews
Be The First To Share Your Thoughts
---
Write a Review
Please log in to write a review: