• Canadian Owned & Operated • Fast & Free Shipping Over $49* • Easy Returns • Gift Wrapping Available • Lowest Prices Guaranteed!
Sort & Filters (48 Per Page)
Toys for 1 Year Old Children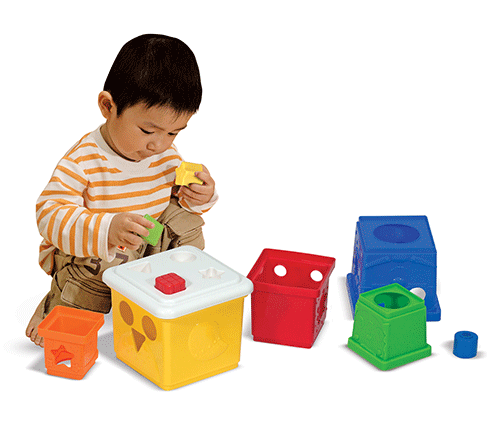 One year old children are always moving. Whether they are still crawling, walking or climbing, your one year old boy or girl are continuously active and looking to explore the world around them. At 1 year old, your son or daughter will begin to learn their first few words, and can learn well through books and stories. Your one year old boy or girl will experiment with simple colours, shapes, and sizes, and can learn through music and rhyme as well. The best toys for one year old boys or girls encompass the basic development components that grow your child's world around them. Look for books with simple illustrations, or pictures of real objects to get them used to their surroundings. Use music, repetitive sound and rhyme to introduce them to audio cues and senses. Develop their confidence and understanding with play-and-pretend toys, like dolls, or costumes. You can also encourage the beginnings of basic motor functions by giving them building toys, such as wooden blocks, so they can develop working with their hands. Toys such as puzzles, those with dials and knobs, and large or small balls also work well in developing your child's muscles and physical well being.
At JR Toy Company, you can shop our selection of great educational toys for 1 year old boys, 1 year old girls or younger babies. Always ensure to follow the label as adult supervision may be required.