• Canadian Owned & Operated • Fast & Free Shipping Over $49* • Easy Returns • Gift Wrapping Available • Lowest Prices Guaranteed!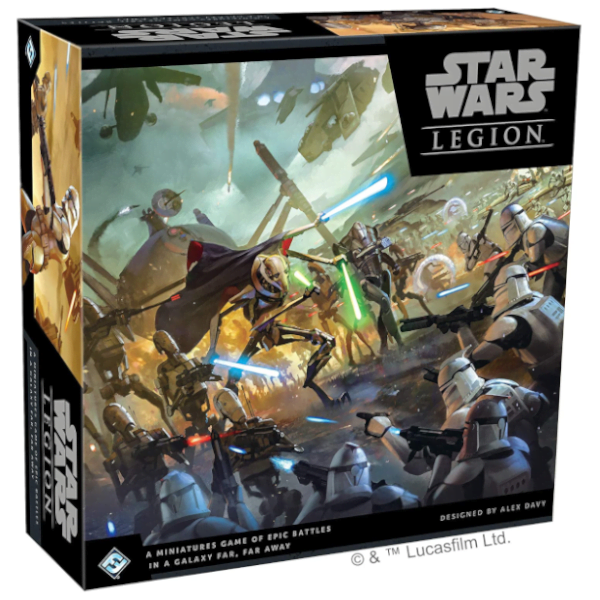 Product Details
SKU: FFGSWL44
UPC Code: 841333109202
Shipping Weight: 3.20 lbs
What's in the Box?
39 plastic miniatures, 8 plastic barricades, 15 dice, 3 movement tools, 1 range ruler, 8 unit cards, 40 upgrade cards, 14 command cards, 12 battle cards, 1 round counter, 107, 1 learn to play booklet.
Description:
Immerse yourself in an epic conflict, assembling your forces in the legendary ground battles of Star Wars™ with the Clone Wars Core Set for Star Wars™: Legion! The vast forces of the Separatist Alliance, bolstered by seemingly endless ranks of battle droids, have pushed the Galactic Republic to the brink of dissolution and defeat. The Republic's only hope is its army of elite clone troopers, led into battle by noble, Force-wielding Jedi Knights. The war between them is an epic struggle where every battle could turn the tide and change the fate of the galaxy.!
This Core Set invites you to enter a completely new era of infantry battles in the Star Wars galaxy, pitting the overwhelming Separatist droid forces against the Republic's crack armies of clone troopers and Jedi Knights. As you do, you'll assemble a force of the Clone Wars' most iconic heroes, villains, troopers, and vehicles, including Obi-Wan Kenobi and General Grievous. In addition to introducing the Galactic Republic and Separatist Alliance to the game, this Core Set contains all the cards, tools and tokens you need to begin staging your own Star Wars battles right away, making this the perfect starting point to begin building your Star Wars: Legion collection!
Product Reviews
Be The First To Share Your Thoughts
---
Write a Review
Please log in to write a review: