Canadian Owned & Operated • Fast + Free Shipping Over $49* • Easy Returns • Gift Wrapping Available • Lowest Prices Guaranteed!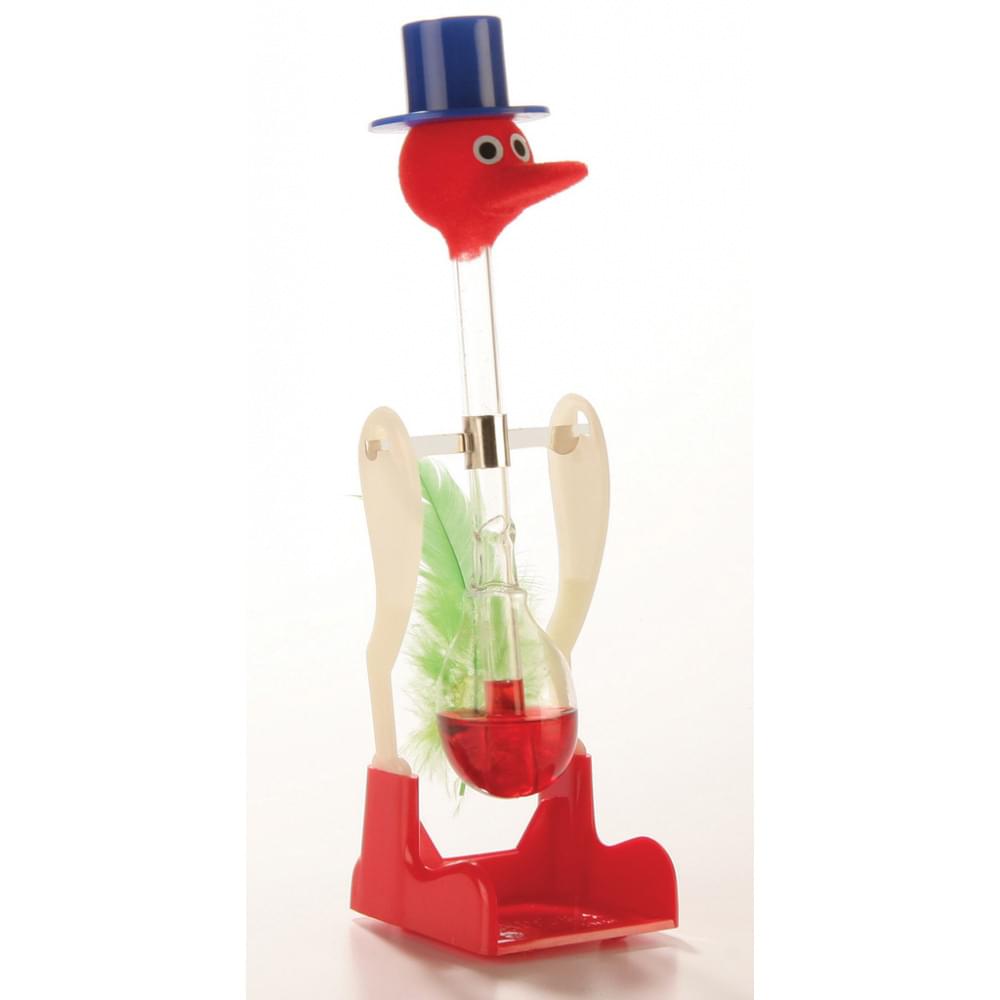 Oiseau à Boire Célèbre Simple
Product Details
SKU: 3053617 SINGLE
UPC Code: 609456677677
Shipping Weight: 1.39 lbs
The infamous Drinking Bird has been popular among children and adults for years. Once Drinking Bird's head is dunked in water, it will begin bobbing back and forth taking "drinks" with every bob. This item includes 1 bird only.
The Drinking Bird works using properties of thermodynamics, converting thermal energy into mechanical energy. The head and lower body of the bird are hollow glass chambers that are connected by a glass tube. The tube dips into the liquid (methylene chloride) in the lower body allowing the liquid to move up the tube when the temperature of the head is slightly cooler.
The head is coated with red felt that absorbs water with every drink. Evaporation, aided by the swinging motion, reduces the temperature of the head. The vapor from the liquid will subsequently condense in the head. This makes the pressure in the head slightly lower than in the body, and the liquid is pulled up the tube. The bird's center of gravity is altered as the liquid rises causing it to begin tilting toward the water and the bird takes a drink.
As the drinking bird tilts over, the liquid is eventually removed from the lower body and the lower portion of the tube. The vapor above the liquid then rushes up the tube which equalizes the pressure in the head and body. With this, the center of gravity returns to the lower body and with one swift motion, the bird swings back up away from the water.
Ages 8 +. Drinking Bird comes wearing a blue hat and red feet, and the liquid included may be red or blue.
WARNING: Choking Hazard - Contains small parts. Not suitable for children under 3 years. Contains methylene chloride and may stain clothing and other surfaces. Do not swallow liquid or allow to come in contact with eyes or skin. Non-flammable. Keep away from flame or other heat sources.
Recommended Products
Reviews
Product Reviews
See What Our Customers Had to Say
Great toy that brings back memories of my childhood. Glad I could pass it onto my kids
---
Write a Review
Please log in to write a review: