• Canadian Owned & Operated • Fast & Free Shipping Over $49* • Easy Returns • Gift Wrapping Available • Lowest Prices Guaranteed!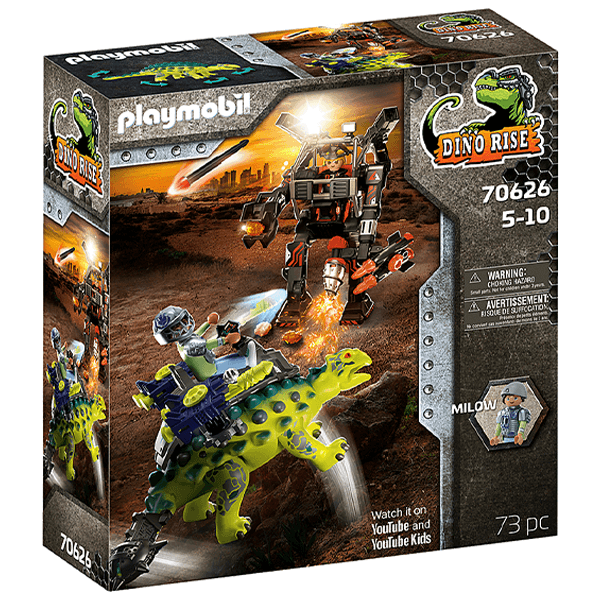 Playmobil Saichania Invasion of the Robot
Write a Review
$52.55
$94.99
You Save 45%
Product Details
SKU: 70626P
UPC Code: 4008789706263
Shipping Weight: 2.15 lbs
What's in the Box?
73 piece set includes 1 teenager, 1 villain, 1 Saichania, 1 back armor, 1 combat robot, 3 energy stones, 1 cap, 2 helmets, 1 chest armor, 1 pair of arm armor, and 1 pair of arm guards.
Description:
The Comet Corporation attacks with their hyper-modern robot fighter. The lightning-fast cannons, make the robot extremely dangerous and difficult to stop. But fortunately the brave team around Ian has made it their mission, to fight the soulless robots of the Comet Corporation with all means at their disposal. On the back of his Saichania, clever Milow tries to thwart the plans of the fighting machine; but watch out for the robot's arm as it uses its gripper hand and drill to attack. Oh, but the clever Milo sits on the dino's back and uses the functioning cannons to fight off the machine, while the Saichania swings its tail around to defend the back. This dino-human power team is hard to beat. With interchangeable hairstyles and removable armor, hero figure can easily transform out of battle mode.
Recommended Products
Purchased Together
Reviews
Product Reviews
Be The First To Share Your Thoughts
---
Write a Review
Please log in to write a review: